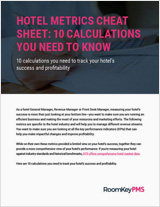 As a hotel General Manager, Revenue Manager or Front Desk Manager, measuring your hotel's success is more than just looking at your bottom line—you want to make sure you are running an efficient business and making the most of your resources and marketing efforts.
The following cheat sheet provides metrics specific to the hotel industry and will help you to manage different revenue streams.
Ensure that you are looking at all the key performance indicators (KPIs) that can help you make impactful changes and improve profitability.
---
Download the Cheat Sheet